Exploring the Bethlehem Skate Park
Have you been searching for a skate park that caters to riders of all skill levels and offers a welcoming environment? Look no further than Bethlehem Skateplaza, a 23,000 square foot haven for skateboarders and bikers alike. Nestled in South Bethlehem, Pennsylvania, Bethlehem Skateplaza has something for everyone, from beginner-friendly elements to challenging obstacles for advanced riders. Are you ready to dive into the world of Bethlehem Skateplaza and explore everything this amazing Bethlehem skate park has to offer?
Grab your board or bike and let's get started!
Key Takeaways
Discover Bethlehem Skateplaza, a 23,000 sq. ft. skate park built through collaborative efforts and offering features for all skill levels

Enjoy amenities such as wheelchair accessibility, dog-friendly environment and nearby attractions

Open from daybreak to sundown every day at 1325 Steel Ave., Bethlehem PA 18015 with ample parking available
Discover Bethlehem Skate Park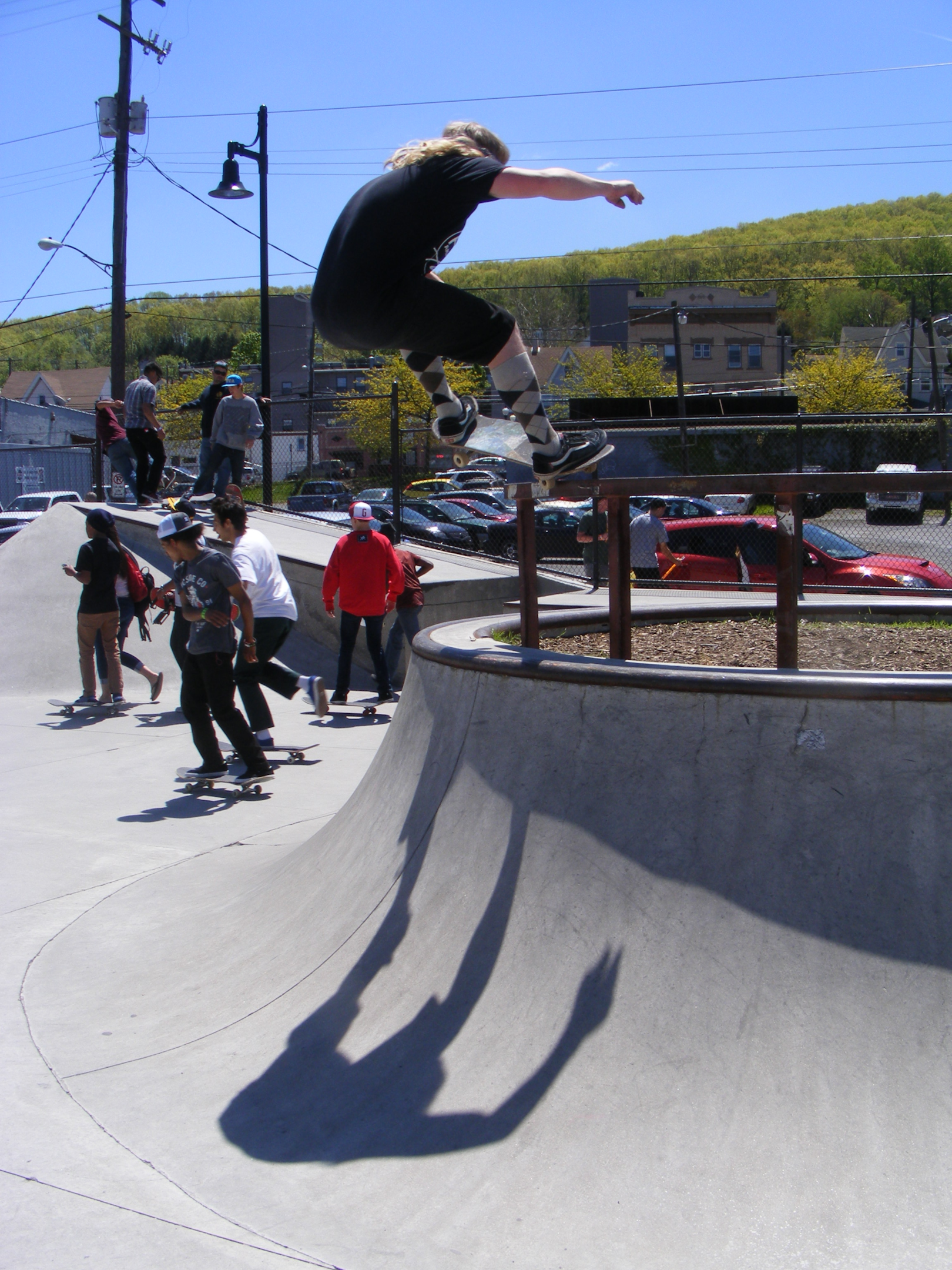 Bethlehem Skateplaza, an expansive 23,000 square foot skate park, was born out of a vision to create a safe and engaging space for skateboarders, bikers, and spectators in Bethlehem, PA. The park is a testament to the collaboration of passionate individuals and organizations, as well as the Bethlehem City government. Together, they transformed a worn-out playground into a world-class skate park that incorporates the natural terrain and landscape, creating a seamless integration with the surrounding environment.
The Bethlehem Skate Park Association, a group dedicated to securing authorization and funds for a permanent concrete terrain park, played a significant role in the park's development. They sought $80,000 in specifically designated Congressional funding, showcasing their commitment to creating a top-tier skate park for the community to enjoy.
The Origins of Bethlehem Skateplaza
Established in July 2010, Bethlehem Skateplaza has since become a popular destination for skateboarders and BMX riders in the area. The park's design was driven by the desire to replicate the streets that skateboarders are often evicted from, resulting in a progressive and vast skateplaza that stands unparalleled in its design and size.
The park's construction took into account the existing terrain, trees, and other elements to generate a natural flow without imposing an artificial shape onto the landscape. The substructure of the park consists of load-bearing layers of gravel, topped with reinforced concrete, providing a smooth surface for riders to enjoy.
The Purpose and Vision
Bethlehem Skate Park primarily aims to:
Encourage self-confidence and a community spirit in young people through physical activities

Involve future users, the children, in the planning and construction process to allow them to design the area for themselves and gain valuable experience in handicraft and craftsmanship

Provide a platform for children's development, where they can practice abilities and observe the advancement of training
Skateboarding serves as a powerful tool in achieving these goals.
The mission of Bethlehem Skate Park is to:
Offer a venue for skateboarders and bikers

Provide a passive space for non-riders to watch the action

Provide amenities such as benches, restrooms, and a concession stand

Create an inclusive environment where everyone can appreciate the park and its offerings
Exploring the Park's Features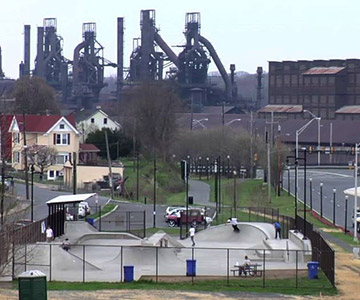 A distinctive feature of Bethlehem Skateplaza is the diverse range of obstacles and transitions designed to accommodate riders of every skill level. The park's features include:
Beginner-friendly elements like benches, tables, and landscaping

Advanced obstacles such as a 16-foot kidney-shaped skate bowl

A 1,832-square-foot obstacle
These features provide opportunities for riders of all levels to enjoy the park.
The design of Bethlehem Skateplaza emulates various streetscape obstacles such as:
handrails

benches

staircases

sculptures
This enables skaters at any level to refine their skills at the skatepark. The park's ambition to create a world-class skateplaza is evident in its progressive design and immense size, making it suitable for riders of all ages and abilities.
Beginner-Friendly Elements
Bethlehem Skateplaza features a range of beginner-friendly elements, including:
Benches

Tables

Landscaping

Shade trees

Decorative paving
These features not only provide a welcoming environment for riders who are just starting out and looking to develop their skateboarding or biking skills, but also provide features such as cookie choices learn opportunities. Additionally, the park accommodates those who prefer using metric and imperial units for measuring their progress and performance. To enhance user experience, optional cookies and similar technologies can be enabled on the website.
Safety is a priority at the park, with easy monitoring, a secluded environment, and safety techniques and lessons implemented to ensure the well-being of beginner riders. As beginners gain confidence and master basic routines, they can progress to more advanced elements within the park, making Bethlehem Skateplaza a nurturing space for skill development.
Advanced Obstacles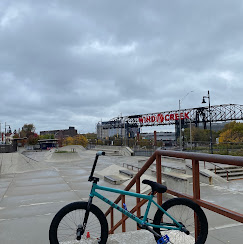 Bethlehem Skateplaza offers a plethora of advanced obstacles designed to test the skills of experienced riders. The park features:
A 16-foot kidney-shaped skate bowl

Flat rails

Steps

A 1,832-square-foot connector obstacle
Safety is also a concern for advanced riders at Bethlehem Skateplaza. The park ensures safety through information controls, such as:
Regular maintenance and inspection

Implementing safety rules and guidelines

Providing supervision

Offering skateboarding classes or programs
In addition, the park's diverse and unique advanced obstacles set it apart from other skate parks, providing a thrilling experience for skilled riders.
Accessibility and Amenities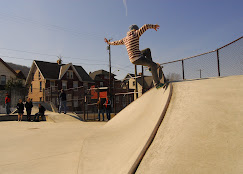 In addition to offering a venue for skateboarders and bikers, Bethlehem Skateplaza prioritizes accessibility and amenities for all who visit. The park caters to wheelchair users by featuring ramps and smooth surfaces that allow easy navigation.
The park also welcomes dogs, making it a great spot for pet owners. Although there are no specific facilities for dogs within the park itself, the nearby Monocacy Park Off-Leash Recreation Area provides a dedicated space for furry friends to enjoy.
Wheelchair Accessibility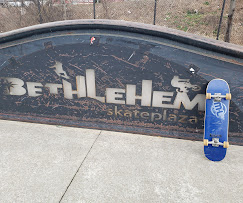 Ensuring wheelchair accessibility throughout the park, Bethlehem Skateplaza aims to create an inclusive environment for all guests. The park is equipped with ramps and smooth surfaces, allowing for ease of maneuverability for wheelchair users. The layout of the skate park has also been altered to accommodate those using wheelchairs, providing a comfortable experience for everyone.
Designated pathways for wheelchair users are available at Bethlehem Skateplaza, ensuring a safe and enjoyable visit for all. The park's commitment to accessibility demonstrates its dedication to providing a welcoming environment for everyone.
Dog-Friendly Environment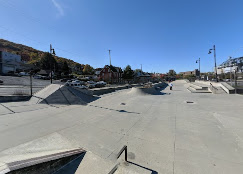 Pet owners can rejoice as Bethlehem Skateplaza is a welcoming spot for dogs. Although there are no specific facilities for dogs within the park, visitors can bring their furry friends along to enjoy the atmosphere. The park has a designated area for dogs called "The Bark Park," and dog waste stations are available onsite, ensuring a clean environment for all.
For those looking to give their dogs some off-leash playtime, the nearby Monocacy Park Off-Leash Recreation Area is a great option. Visitors can enjoy a day at Bethlehem Skateplaza with their canine companions, making it an ideal destination for all members of the family.
Engaging with the Local Community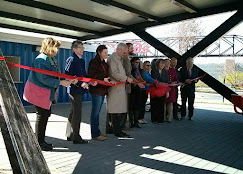 Bethlehem Skateplaza engages with the local community in the following ways:
Maintaining a robust presence on social media platforms like Facebook and Instagram

Sharing updates, photos, and videos related to the skate park

Engaging with the audience through comments, messages, and interactions

Promoting upcoming events and gatherings

Maybe even one day finishing the third phase that was in original plans
These efforts help the skate park stay connected with the community and build a strong online presence.
Additionally, Bethlehem Skateplaza organizes events, competitions, and classes for young skaters and bikers. These gatherings not only foster a sense of community among riders but also provide opportunities for skill development and networking.
Social Media Platforms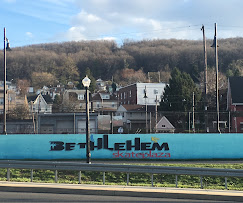 Maintaining a connection with Bethlehem Skateplaza is effortless, thanks to their active Facebook and Instagram accounts. The park's Facebook page shares updates and news regarding events, competitions, and new features or expansions. On Instagram, the park posts images and videos of skaters and bikers performing tricks and utilizing the park's features, providing a glimpse into the vibrant community of riders.
By following Bethlehem Skateplaza on social media, visitors can stay informed about upcoming events, share their experiences, and connect with fellow riders. These platforms also offer an opportunity for the park to receive feedback and suggestions from the community, allowing them to continually improve and grow.
Events and Gatherings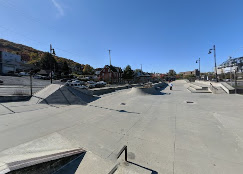 Not just a skate park, Bethlehem Skateplaza serves as a nexus for events and gatherings that unite the local community. The park hosts competitions, classes for young skaters, and meet-ups organized by local skate shops and BMX groups.
One example of a recurring event is "Family Friday Themed Skate Night," which takes place every Friday from 6:00 pm to 9:00 pm, offering a fun-filled evening for the entire family. These events not only provide a space for riders to showcase their skills and bond with fellow enthusiasts but also contribute to the park's mission of fostering self-confidence and community among the youth.
By attending and participating in events at the park, visitors can truly immerse themselves in the vibrant community that defines Bethlehem Skateplaza, including the occasional board meeting.
Visiting Bethlehem Skate Park
With its convenient location and operating hours, planning a visit to Bethlehem Skateplaza couldn't be easier. The park is located at 1325 Steel Avenue, Bethlehem, PA 18015, in South Bethlehem, across from the historic Bethlehem Steel Stacks. Open year-round from dawn to dusk, Bethlehem Skateplaza welcomes riders and spectators throughout the day.
With a variety of features catering to all skill levels, accessibility for wheelchair users, and a dog-friendly environment, Bethlehem Skateplaza is the perfect destination for families and riders alike. So, gear up and get ready to experience the thrill of this world-class skate park!
Operating Hours and Location
The operating hours of Bethlehem Skateplaza simplify the planning process for visitors. The park is open from daybreak to sundown every day, weather permitting. This allows riders to enjoy the park throughout the day, whether they prefer early morning sessions or evening rides.
The park is conveniently located at 1325 Steel Ave, Bethlehem, PA 18015, in South Bethlehem, across from the Wind Creek Casino. With ample parking available nearby, visitors can easily access the park by car or public transportation. The LANTA Bus System is a reliable option for those opting for public transit, with further information available on their website.
Nearby Attractions and Amateur Athlete Skateshop
The location of Bethlehem Skateplaza allows visitors to easily check out nearby attractions, including SteelStacks, Hoover Mason Trestle, and the National Museum of Industrial History. After a day of skating, visitors can take in the rich history of Bethlehem and enjoy a range of dining options, including the local favorite Lehigh Pizza, if your a poutine fan definitely try The Flying V. Right across the bridge you can get a taste of New Orleans southern style food at The Bayou.
For skaters looking to gear up or upgrade their equipment, the Amateur Athlete Skateshop in Bethlehem offers a comprehensive selection of skateboarding products and services. From skateboards and accessories to apparel and footwear, the shop provides everything a rider needs to make the most of their time at Bethlehem Skateplaza.
One of the Best Skate Parks in Pennsylvania
In conclusion, Bethlehem Skateplaza is a remarkable skate park that caters to riders of all skill levels and offers a welcoming and inclusive environment. With its rich history, diverse features, and commitment to accessibility and community engagement, the park provides a truly memorable experience for all visitors. From beginner-friendly elements to challenging advanced obstacles, Bethlehem Skateplaza has something for everyone.
So, whether you're a seasoned rider looking to push your limits or a family seeking a fun-filled day out, Bethlehem Skateplaza is the perfect destination. Grab your board or bike, invite your friends, and get ready to experience the thrill of this world-class skate park. See you at the plaza!
Frequently Asked Questions
What are the operating hours of Bethlehem Skateplaza?
Bethlehem Skateplaza operates from sunrise to sunset each day, depending on the weather.
Is the park wheelchair accessible?
Yes, Bethlehem Skateplaza is wheelchair accessible, with designated pathways for users.
Are dogs allowed at the park?
Yes, dogs are allowed at the park, as there is a designated area called "The Bark Park" for them to enjoy.
What types of events does the park organize?
Bethlehem Skateplaza organizes competitions, classes for young skaters, and meet-ups with local skate shops and BMX groups.
Are there any nearby attractions to visit?
Explore SteelStacks, Hoover Mason Trestle, and the National Museum of Industrial History, all nearby attractions worth visiting.