Upgrade Your Skating Game with Top-Quality Santa Cruz Skateboards & Wheels
Santa Cruz Skateboards isn't just a brand; it's a legacy in the skate world. For over four decades, Santa Cruz Skateboards has been at the forefront, offering top-notch skate gear that promises both style and performance. From the avid skater to the newcomer, Santa Cruz has something for everyone.
VISIT THE STORE TO BROWSE CRUZ SKATEBOARDS
Santa Cruz Skateboarding: More Than Just a Brand
When one mentions Santa Cruz Clothing or Santa Cruz Skateboards, it invokes a sense of nostalgia for many. This iconic brand has been a household name for over 40 years, offering the best in skate gear.
Quality and Performance Synonymous with Santa Cruz
The legacy of Santa Cruz Skateboards stems from its unwavering commitment to quality and performance. Known for manufacturing an extensive and innovative selection of designs and styles of Santa Cruz clothing and skateboards, it's no wonder that Santa Cruz remains a top skating brand choice for many. With a name that has become synonymous with high-caliber performance, skaters know they're choosing one of the OG skate brands when opting for Santa Cruz.
Iconic Designs for Every Skater
Whether you're a fan of the timeless Santa Cruz Screaming Hand, the Classic Dot range, or eager to check out their newest pop-culture collaborations like the much-buzzed-about Stranger Things line, there's always something fresh and exciting on offer, like the upcoming Santa Cruz x Pokemon limited deck release.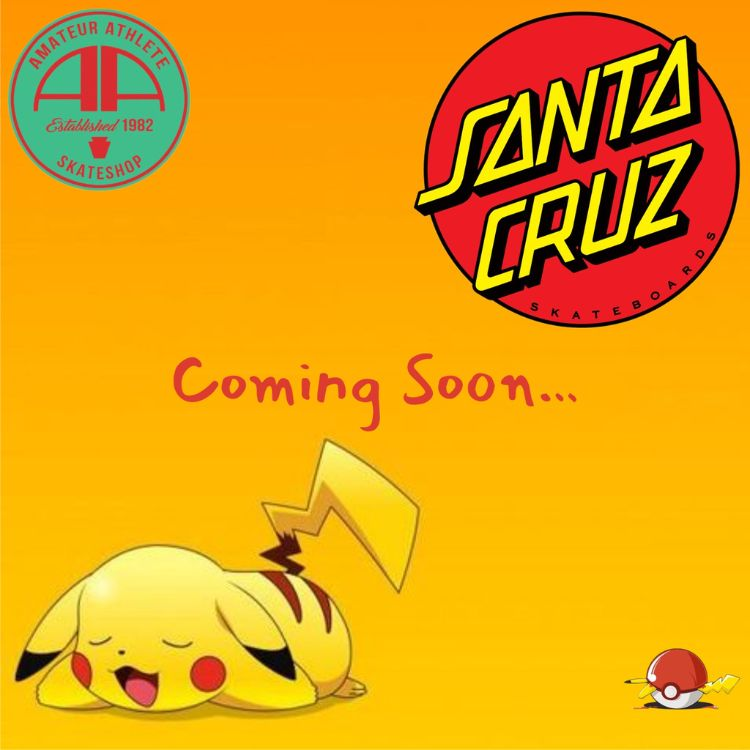 Opt for Quality with Santa Cruz Skateboards and Accessories
Santa Cruz isn't just about aesthetics. They're about top-tier performance.
Wide Range of Choices
From complete skateboards, longboards, cruisers, and even the highly sought-after Santa Cruz decks and wheels, the brand ensures there's something tailored for every skater's need. Beginners and seasoned skaters alike can vouch for the unparalleled quality and performance Santa Cruz brings to the table.
Upgrade Your Skate Setup
Santa Cruz decks and wheels are more than just functional; they're a style statement. With a myriad of designs and colors to choose from, you can ensure that your skate setup isn't just about the ride but also about expressing your unique style.
Shopping Made Easy
Struggling to make a choice or curious about what might suit your style best? Take advantage of the advanced filters at Amateur Athlete to narrow down your choices. And if you ever find yourself uncertain, Amateur Athlete's friendly support team is always available to guide you in your shopping journey.
BROWSE SANTA CRUZ SKATEBOARDS HERE
The Pillars of Santa Cruz: Richard and Doug
When discussing the rich heritage and culture of Santa Cruz, particularly in the realms of skateboarding and surfing, two names stand out prominently: Richard Novak and Doug Haut. Both have left indelible marks on the sports and have helped shape the community and industry associated with them.
Richard Novak
The modern skateboarding industry owes a lot to visionaries like Novak. As a co-founder of NHS Inc., the parent company behind the legendary Santa Cruz Skateboards and Independent Truck Company, Novak has been at the forefront of skateboarding's evolution since the 1970s. Alongside Jay Shuirman and Ron Beaton, Novak was instrumental in introducing innovative skateboarding products starting at NHS Inc that not only resonated with the skating community but also set the benchmark for quality and performance. Under his leadership, Santa Cruz Skateboards became more than just a brand—it became an icon, a symbol of the skate culture that emerged and flourished in California.
Doug Haut
Transitioning from the skating lanes to the surf breaks, the story of Santa Cruz's surf culture is incomplete without mentioning Doug. A surfing maverick, Haut opened the doors to the Haut Surf Shop in the 1960s, a place that soon became a nucleus for Santa Cruz's burgeoning surf community and the most relevant place locally for all things surf. Haut wasn't just known for his surfing prowess; he was a master shaper, crafting custom boards that became the gold standard for surfers in the region and beyond. Through his passion for the sport and the community, Haut ensured that Santa Cruz's waves echoed with tales of surf legends, epic rides, and a culture that cherished the ocean and the sport.
Together, Novak and Haut embody the spirit of Santa Cruz Skateboards—a city that thrives on innovation, community, and a deep-rooted passion for skateboarding and surfing. Their contributions serve as a testament to what Santa Cruz Skateboards represents: a haven for those who chase waves and ramps, and a place where legends are born.